Bob Ross Meme: The Curly-Haired Artist Smiles In Front Of The Painting
Bob Ross meme is a curly-haired artist who became a meme after his TV show The Joy of Painting appeared. Bob is parodied for his flamboyant appearance with a beard and Afro hairstyle and expressive manner of speaking. Instead of a picture, a template with an artist is often photoshopped with a variety of images.
Meme Origin
American artist Bob Ross hosted The Joy of Painting from 1983 to 1994. Bob invented the quick oil painting technique and taught it in his programs. Basically, the artist painted landscapes.
Ross produced 450 programs and was shown all over the world. Bob was born in 1942 and died in 1995 at the age of 52 from lymphoma.
Why is Bob Ross a meme? In 2002, one of the most popular photographs of Ross at his easel became the basis for a Photoshop battle between Something Awful and Fark.com. In 2004, examples from the battle were published by the British Academy of Arts, and the photo itself became a ruined Bob Ross meme.
In 2012, PBS posted episodes of Ross's program on YouTube. The Bob Ross Remixed video gained particular popularity, in five years it gained 14 million views.
Then the Epic Rap Battles of History program released a parody of Ross and filmed his conditional battle with Pablo Picasso, who also became a Painter Guy meme.
In 2015, episodes of the program with Bob Ross began to be shown on the Twitch Creative channel on the Twitch broadcast service. The broadcast began on October 29 on the artist's birthday and lasted until November 3, it was watched by more than 314 thousand people. Since then, broadcasts in honor of the birthday of Bob Ross have become annual.
Meme Meaning
Bob Ross dank memes do not make much sense, it's just convenient to add different funny images to the canvas next to him using Photoshop. This makes the Bob Ross Twitch meme very versatile. The very personality of Ross became popular due to his striking appearance (primarily curly Afro hairstyle), his image is often parodied.
Ross is often ridiculed for videos where he says that every person is capable of painting. Also considered funny is his phrase that he draws "little happy trees".
Selection of Memes
The little happy monster in the picture looks a little terrifying. But this is just great! We are sure that this is what Bob Ross would say if he created such a picture.
Snoop Dogg decided to become an artist and draw some happy little trees like on the original Bob Ross meme template. Have you also thought about those trees or rather bushes from which you can catch euphoria and make a joint?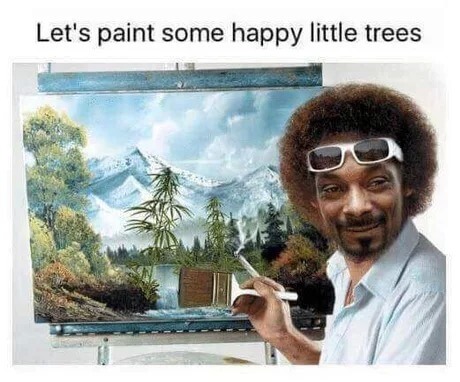 Bob Ross ruined the saved meme, which confirms that Bob Ross is a legendary artist. He can draw absolutely anything using any color of paint! Bob Ross even knows what color the wind is and can paint a picture with these colors.
If you have ever googled a drawing tutorial, then you are familiar with painting Bob Ross memes. Artists in such guides start drawing a few lines, and then 10 seconds pass, and a real masterpiece is on a piece of paper. Can anyone explain how this happens?
Bob Ross has a wonderful and positive mindset. We should learn from him to think the same way and start looking at negative situations in a completely different way. Once you know this, life would become much more fun and easier.
Would you like to be able to draw as cool as Bob Ross? We need to look for such talented people. Be sure to watch at least one program with his participation. We assure you'll be fascinated by his positivity and drawing skills, as well as funny Bob Ross memes.
Do you like this article?
yes
0
LOL, you really like it?! OMG, kappa pride, tell us why :)
no
0
Ok, boomer, now I am serious as a serious cat. Tell me why you didn't like it?