Dean Norris Meme: Hank Schrader In Breaking Bad
The cheerful and sad Hank meme is based on an image by the actor who played the role of police officer Hank Schrader in the series Breaking Bad.
The meme creators used a professional photo of Dean Norris for the template. On the first one, he smiles broadly, and on the second, he makes the saddest face. The contrast between these images allows you to compare different phenomena, objects, and people.
Meme Origin
In July 2014, American actor Dean Norris tweeted pictures from a photoshoot, best known for playing DEA agent Hank Schrader on Breaking Bad. In the first frame, Norris smiles happily, and in the second, his face becomes gloomy.
The template for the Dean Norris meme was two professional photographs. This actor is known for his role as Hank Schrader in the TV series Breaking Bad, released from 2008 to 2013. On July 14, 2014, Dean tweeted pictures from the photoshoot. In the first frame, the man smiles broadly. In the second, he frowns.
The first Smile Then Frown meme with a collage of two photos appeared in 2017. It was published in a fan account on Instagram dedicated to the series Breaking Bad.
At that time, the format did not become particularly popular. Again, the frames were remembered in the spring of 2021, when a Hank Schrader meme about football was published on Twitter, and a joke about Boruto with the same structures as Norris was published on Reddit. The format began to be used to compare phenomena, one of which causes joy and the other – melancholy or sadness. The design gained wide popularity in April.
The format began to be used to compare two phenomena or events. For example, a cheerful Hank expresses the emotions of someone who decided to clean the room himself. And the sad one is the one who cleans upon instructions. The Dean Norris meme template peaked in popularity by mid-April.
Social media users also began to make funny memes with references to video games – Overwatch, World of Warcraft, Witcher, Doom, Fallout: New Vegas, Minecraft.
Meme Meaning
On social networks, a meme with Dean Norris has gained popularity, in which the actor smiles and frowns. First, the two-panel format was used to express joy about one phenomenon and displeasure about another and then turned into an absurd illustration of proverbs and sayings.
In a broad sense, Hank's meme Breaking Bad is used to compare two phenomena. One of them is positive, and the other is sad and forced. But most often, this meme illustrates sayings that usually have a contrast. Soon, abstract versions of memes appeared, in which they were ironic about the format where proverbs were used.
The Breaking Bad series has already given the world one good meme template. This is a shot of a black guy lying on a pile of money.
Selection of Memes
It was very unexpected when the teacher gave a story to read, which turned out to be interesting. In schools, we are often offered to read tedious works that do not even catch a bit. And after that, you also have to write a test for this book.
If you compare a cold bed and a cold chair, then the bed is better, although here one likes it. Some prefer a warm chair to a warm bed. Most likely, in the Guy Smiling Then Frowning meme, we are talking about a friendly time when you want a slight coolness. This meme is actually about a parallel universe where people think differently than we do.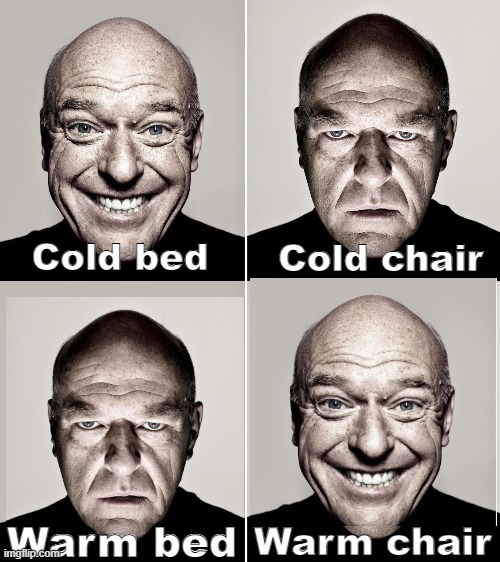 Imagine this situation: say, "You're next," not at the wedding, but during the cremation. It'll sound like the person you say would soon die and be cremated. It's better to do this because it sounds very creepy.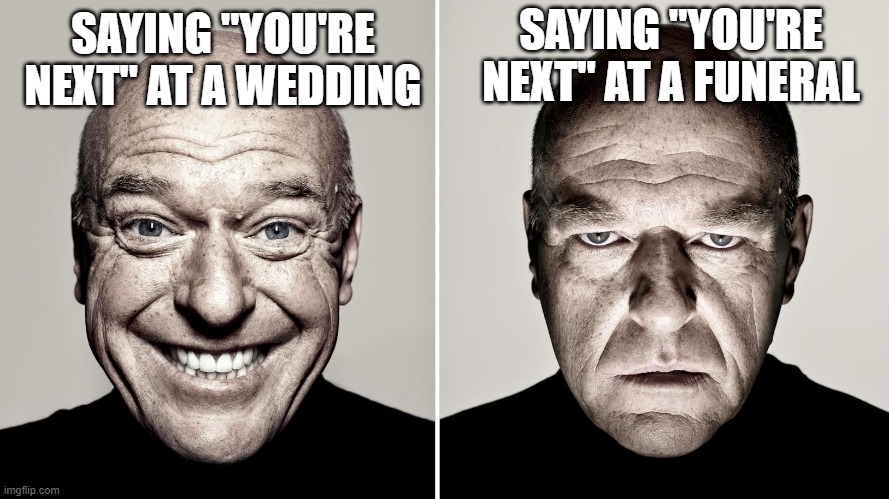 We are sure that 9 out of 10 of our readers have the same opinion on this Hank Breaking Bad meme. Playing video games for 10 hours in a row is no problem, but sitting in an online class for an hour is a living hell.
An extraordinary play on words that may puzzle those trying to understand this Hank Schrader meme face. Pay attention to the last part of the word, and you'll notice that both comments have "go" and "stop." This is the whole joke, and it turned out to be very easy to understand.
We want to tell you that the meme became so viral that, in the end, Norris himself found out about it. He was not upset at all, but on the contrary, he joined the general fund. Moreover, its options turned out to be no less ridiculous and delusional than the users came up with.
Do you like this article?
yes
0
LOL, you really like it?! OMG, kappa pride, tell us why :)
no
1
Ok, boomer, now I am serious as a serious cat. Tell me why you didn't like it?