Grim Reaper Meme About Death That Kills Social Networks, People, And Memes
Grim Reaper meme – a picture with a drawn Death knocking on a closed door. Several doors behind her are already open, and blood is spilled on the floor. The meme illustrates the sequential destruction of several things by one person or phenomenon.
Meme Origin
A cartoon showing Death knocking on a door with a scythe first appeared on the Argentine website Taringa on August 16, 2013. In the original, Death symbolizes the United States, and the doors symbolize Pakistan, Iraq, Libya, and Syria. The door is not yet opened in Egypt. The picture is dedicated to the military policy of America.
A few days later, the same picture appeared on Reddit under the heading "Death the Imperialist." The post did not get many likes, but the picture began to be used in memes. For example, in September, someone came up with a continuation of the comic, depicting Russia kicking Death out of Ukraine. Unfortunately, on February 24, 2022, Russia came in the form of death to Ukraine and unleashed a full-scale war.
For a long time, the drawing with Death and doors was used primarily to illustrate such political and military subjects. But since 2018, its meaning has expanded. For example, in October 2018, on Twitter, using this Grim Reaper Door meme, they depicted Epic Games and the characters of the game Fortnite.
This meme is also popular on other social networks. It is used to illustrate dead celebrities or, for example, during sporting events.
Meme Meaning
The Death Knocking On Door meme illustrates the sequential destruction of several things by one person or phenomenon. A company, a country, a football team, and even a meme can act as Death. And the doors are what suffered from it.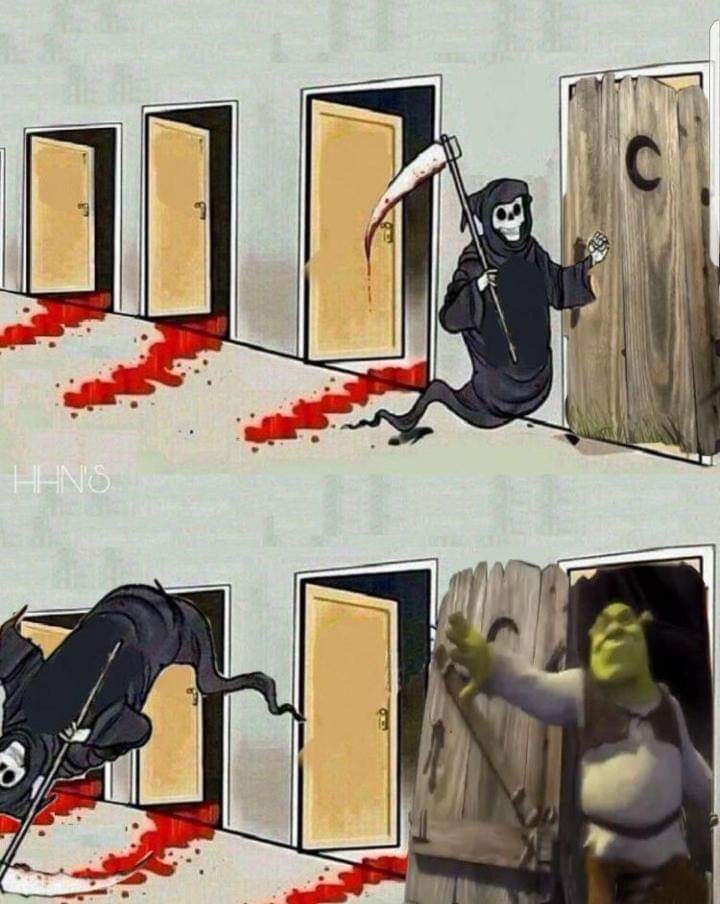 Selection of Memes
Discord is a haven for all gamers on the planet, if they do something wrong with this network, then we simply won't survive. Otherwise, gamers would have to look for another service that would also be convenient to communicate and play their favorite games at the same time.
Putin would never take Ukraine, he staged a real terror and genocide of civilians who are not to blame for anything. The Ukrainian people are trying with all their might to destroy and expel the enemy from their native territories and cities. There is a lot of pain and sadness in this Grim Reaper Knocking Door meme, which is shared by every citizen of Ukraine.
Finally, any orientation of a person would become the norm in society and no one would look askance at you if you like girls or boys, or even both.
And once we thought that Covid 19 would never reach us and it would not affect our health. How wrong we were then. As a result, it turned out that the whole world wears masks and this terrible virus has claimed the lives of hundreds of thousands of people, especially in China and America.
If there is a father in the family who beats children, then this is very sad. Nowadays, unfortunately, children still suffer from domestic violence. But people try even in such situations to be positive and create memes.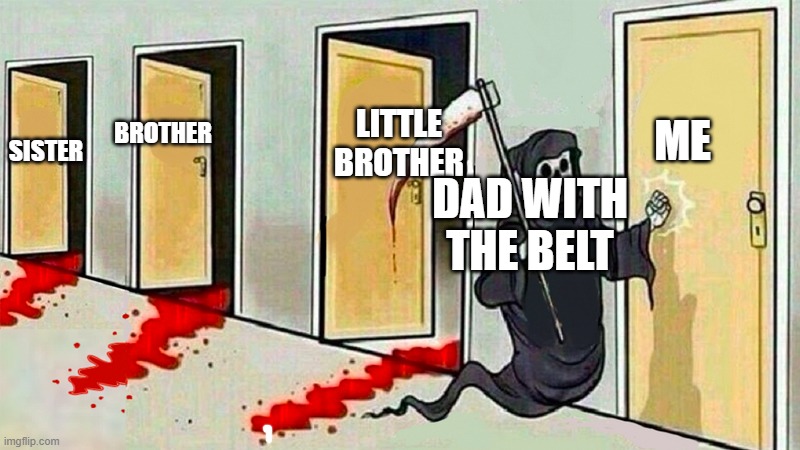 Imagine death knocking on your door. What would be your next steps? Probably many would try to get out of the apartment through the windows or just hide, but you need to look fear in the eye and, if possible, defeat it. Although this is a metaphor, we think that everyone understood for himself what he needed.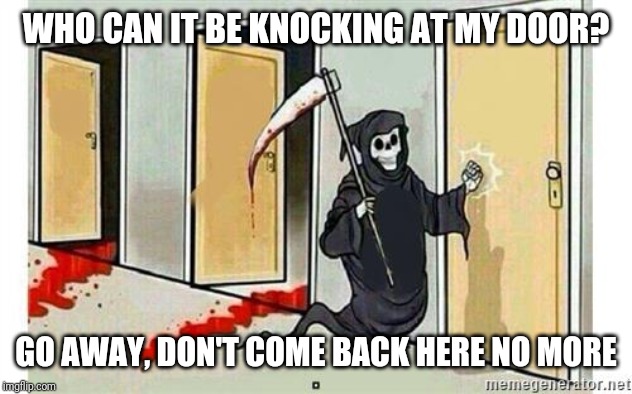 For some reason, many YouTubers play games just like death is knocking on the door on this Grim Reaper meme from a generator. They choose games that are mainstream and very viral. These video games include Among Us, FNF, and Squid Game.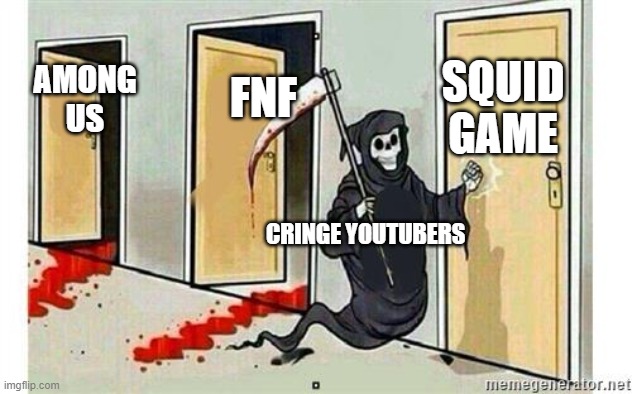 Disney will get every cartoon. It is undeniable that Disney has created a huge number of masterpieces and these cartoons are loved not only by children but also by adults.
Just like cringe YouTubers, these kids love mainstream stuff that's all the rage right now. In the fall of 2021, the series The Squid Game was released and it seems to us that there is not a single person left on the planet who has not heard about this South Korean series.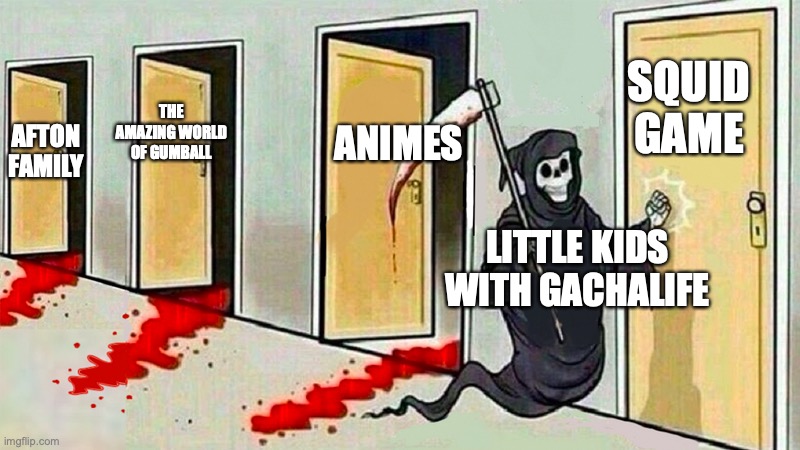 If you liked the Grim Reaper meme template, then use your imagination and make some kind of picture that would turn out to be vital for you. Thanks to this template, it is possible to describe many strange and familiar things that happen to us periodically, but in some new form.
Do you like this article?
yes
0
LOL, you really like it?! OMG, kappa pride, tell us why :)
no
0
Ok, boomer, now I am serious as a serious cat. Tell me why you didn't like it?