Viral Salute Meme: Crying Guy Ozon Salutes When Watching A Video
Salute Meme – streamer Ozon watches the video while drunk and salutes. At the same time, the guy cries and therefore became the hero of many funny pictures. Based on this meme, many funny videos were created, thanks to which the picture became very viral.
Meme Origin
The birth of the Crying Salute meme can be considered July 10, 2017. Drunk Ozon led a stream, where he watched several times in a row a video for the song "Cuckoo", which is the official soundtrack of the film "Battle for Stalingrad". While watching, Ozon cried, saluted, and supported the theme of the video in every possible way. On the fan youtube channel OZON671GAMES3 a 7-minute video "Drunk Ozon cries on the stream" appears.
The title of the video did not deceive its viewer. Ozon does not look very sober, he watches the clip "Cuckoo" (performed by Polina Gagarina), cries, and salutes.
To date, the video has received 362,000 views. The comments under this video and the Salute Crying meme can be considered a separate art form.
Meme Meaning
In general, Ozon became famous in Runet as an alcoholic streamer. The vast majority of people in the Russian segment of YouTube and Twitch either despise him or "ruffle" him. On his streams, he behaves in a rather inadequate way. The streamer hits the wall with his fist, swears and insults people, drinks alcohol, and generally behaves aggressively.
Excerpts with the blogger's antics are circulating online. Also, Ozon constantly says something negative about one of the streamers/bloggers. However, as soon as it comes to a showdown, he merged. Because of this, the word "Terpila" began to be assigned to him in Russian memes.
Meme Spread
The first mention occurs on 2ch.hk at the end of 2017. On February 23, 2018, the Trixinity community posts a selection of memes for Defender of the Fatherland Day. Among them, we already know Ozon's salute meme.
Having received international fame, the Guy Saluting meme remains true to itself and does not change its main purpose.
Many YouTubers and streamers made videos about Ozon and expressed their negative opinion about him. Which in general contributed to the fact that even more people learned about him and memes with him.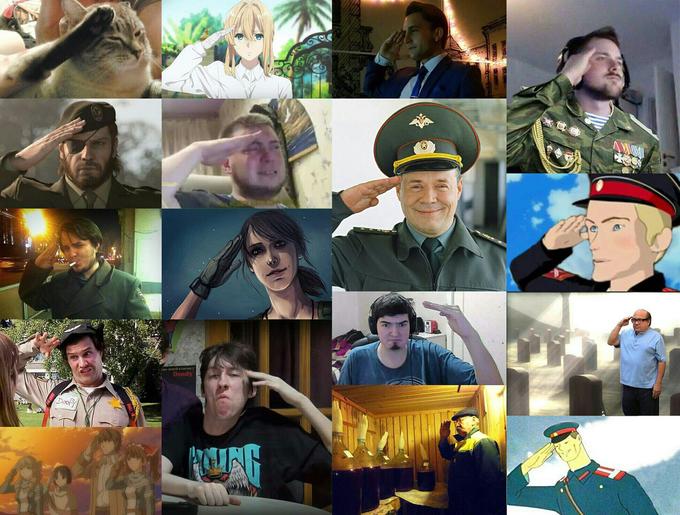 Who is Ozon?
From 2005 to 2010 game streamer Roman Maltsev (Ozon) made streams on Video Mail.Ru. On July 18, 2010, he registered his YouTube channel Ozon671Games3 on YouTube.
Initially, he positioned himself as a game reviewer. He has filmed game reviews, lets plays of various games (TheWarZ, Resident Evil 7, Farming Simulator, etc.), food reviews, and sketches of sorts.
Selection of Salute Scream Memes
During Black Friday, you want to relax, but those who work on this day are persistent people. This is especially true for shop assistants. I would like to salute these strong people because it is very difficult to withstand such pressure from customers on this day.
We can't even imagine what mysteries are in Area 51. Maybe they hide extraterrestrial life from the eyes of all mankind? We salute the courageous military who work in Area 51.
Dropping your phone in a river and drowning it, in the end, is half the trouble. Now imagine the situation that the guy described in this Guy Saluting And Crying meme. He lost his data from an account that he had been keeping for 4 years.
Guys, persistence is cool. But, if you have made 1000 attempts to confess your love to a girl and she continues to reject you, then you should think about it. Better stop knocking on a closed door and look around. Perhaps your destiny is closer than you think.
Russian Salute meme about the news that broke the heart of every Star Wars fan. What a legendary actor he was, we'll miss him greatly. He was truly legendary and would forever remain in our memory.
Don't forget to save your favorite Man Saluting And Crying memes. Although this template is a little outdated and not every social media user knows it, it is still very funny. You can also get acquainted with the activities of the Ozon streamer.
Do you like this article?
yes
0
LOL, you really like it?! OMG, kappa pride, tell us why :)
no
0
Ok, boomer, now I am serious as a serious cat. Tell me why you didn't like it?