Viral Good Question Meme: Shrek Answers Weird Questions
Good Question meme – a picture of Shrek with a soot-stained face and the inscription "Good question". A meme most often serves as an endorsement of some kind of logical reasoning.
Meme Origin
On April 22, 2001, the cartoon Shrek was released. In it, an ogre, on the instructions of Lord Farquaad, saves Princess Fiona from a dragon. The girl thinks that in front of her is her handsome prince, and when she sees an ogre, she is very surprised. Fiona asks why Farquaad didn't come to save her himself. Shrek replies: "Good question, so you can ask him yourself when we arrive."
On April 15, 2019, Reddit user egarciat posted a Shrek Good Question meme template to the /r/Shrek subreddit.
At first, the meme was massively used in skirmishes between Instagram meme-makers and the /r/dankmemes subreddit. But he quickly went beyond Reddit and sold out on other sites, on social networks.
Meme Meaning
Good Question meme with Shrek with a soot-stained face serves as an endorsement of different thoughts. These can be both really good guesses and statements in the spirit of Captain Obvious. The meme also illustrates various conspiracy theories.
Selection of Memes
Having three children who can break all the things in the house is a real hell. It becomes very funny when they break something and pretend that they did not do it.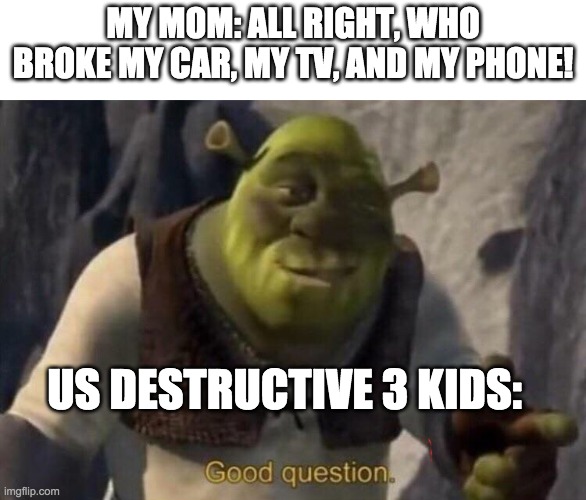 Japan is a very powerful state that played a big role in World War 2. No wonder Germany lost and this served as the basis for such a funny That's a good question meme.
Fiona and Shrek are the perfect couple, so any question she asks is a good one right away! Love is such a strange thing in general, it makes you see beauty even where there is none. And they say that love gives wings, is it really so?
Admit it, have you also experienced this situation at least once in your life? It seems so absurd that it is impossible to believe it. You literally just looked at the time on your watch or smartphone and instantly forgot it.
Very interesting optical illusion on this Good Question Shrek meme. Do you think the stairs go up or down? It seems to us that this cute cat is climbing the stairs right up to our face.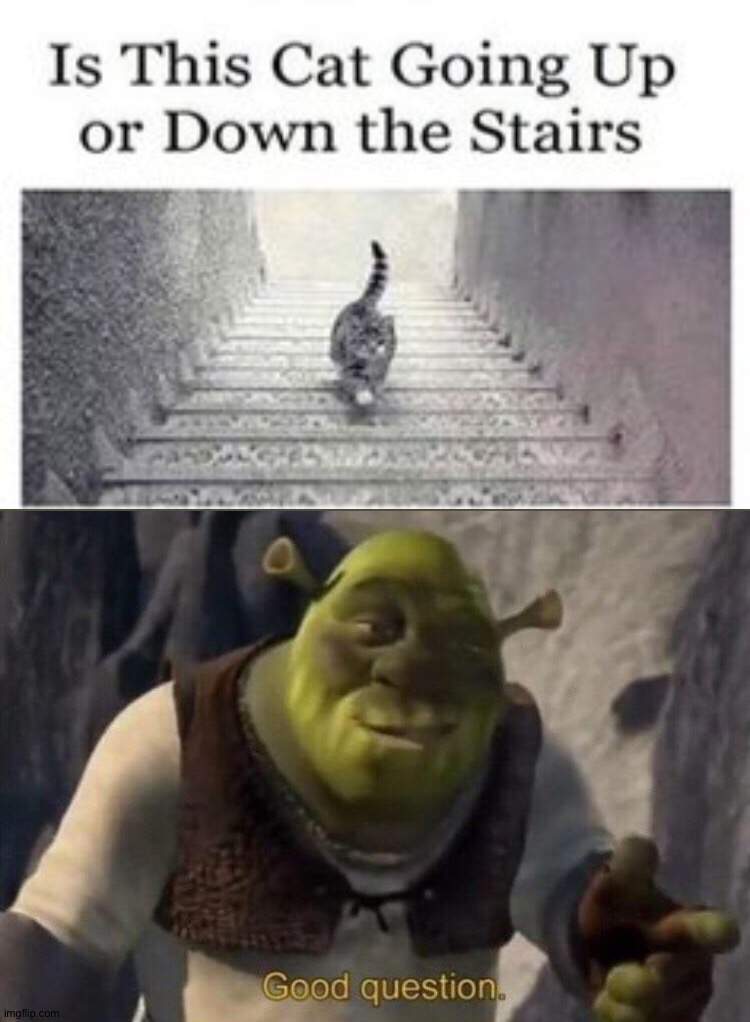 Today, only the lazy have not heard about the fact that Great Britain wants to leave the European Union and this is called Brexit. At the moment, this state has already left the European Union, but we'll see whether this is good or bad a bit later.
The most unpleasant moment is to look for where the computer automatically saved some files. Most often, the PC saves this file to the Downloads folder, but if your file is not even there, you'll have to look for it everywhere.
All you have to understand from this Great Question meme is that Minecraft is sacred! No one dares to remove it from the computer, because whoever does it'll have to pay what they deserve. Let the brother not wonder why his Fortnite would be deleted from the phone after this.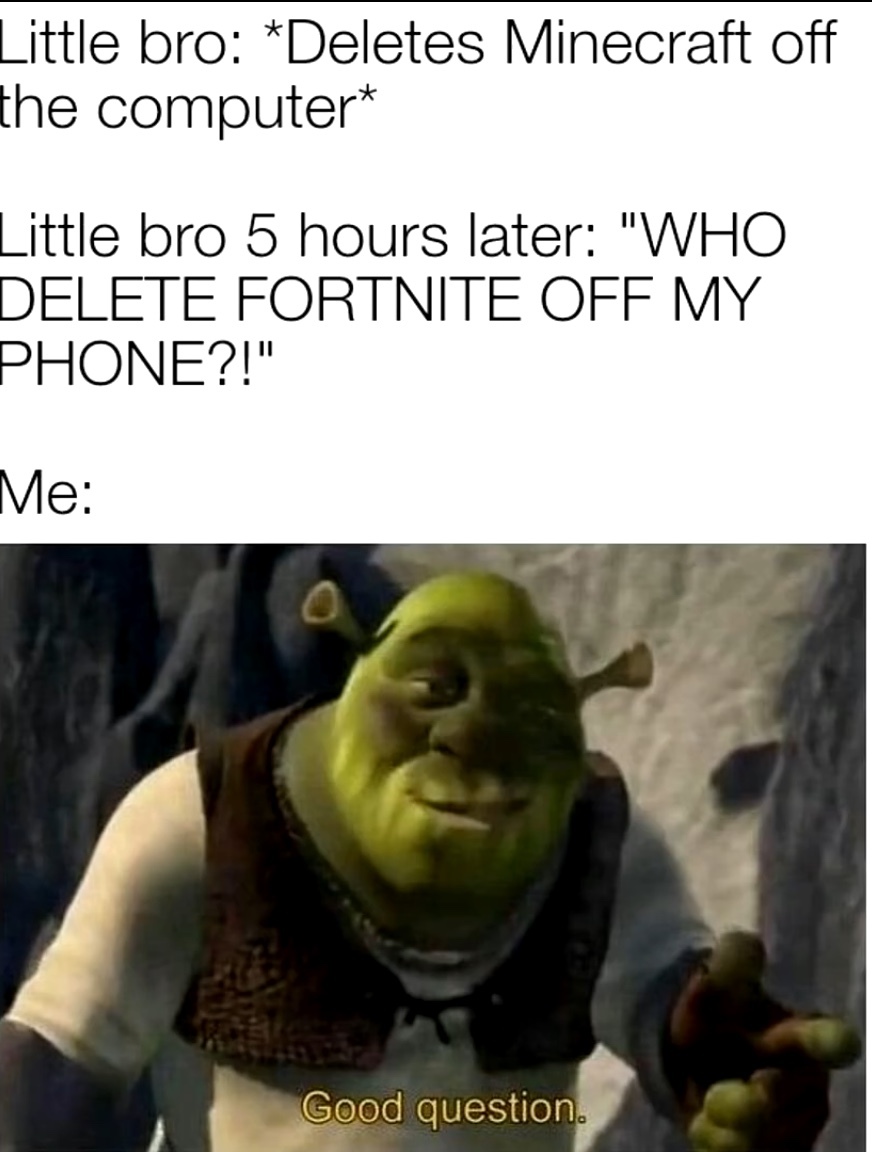 For some reason, many social network users did not even notice the appearance of the Shrek Good Question meme, which is very strange. He seemed to go viral for a short time, especially on Reddit, and then everyone abruptly forgot about him. I wonder how this can be explained because this picture has become very popular.
Everyone who studies so much does not want to do their homework. Then your mom comes up to you and asks, "Do you have homework?" At such a moment, I want to say that they didn't ask anything, but it's bad to lie to your mother and that's why you go sit down at the table and do everything.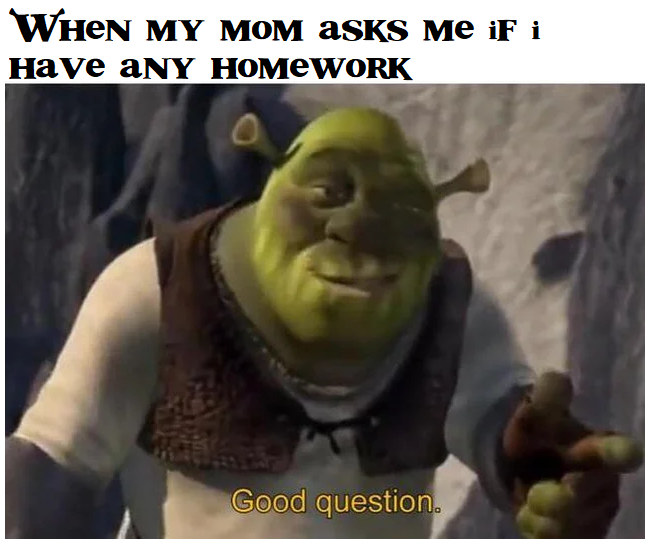 If you just found out about the existence of this Shrek Good Question template, then remember that it's never too late to learn something new in the world of the Internet. Here every day there are different pictures that have great potential to become a meme and it is difficult to keep track of them.
Do you like this article?
yes
0
LOL, you really like it?! OMG, kappa pride, tell us why :)
no
0
Ok, boomer, now I am serious as a serious cat. Tell me why you didn't like it?