Toad Meme From Pinterest: Gentleman Toad Print That Went Viral
Toad meme – an image of Colonel Toad sitting on a chair, dressed in a three-piece suit. This is a whimsical painting that was sold on Etsy and is now immortalized as a fun t-shirt print and meme.
Meme Origin
An illustration of "Colonel Toad", which shows an amphibian wearing an old-fashioned three-piece suit, was sold on Etsy by a shop operator who offered a variety of prints suitable for framing. The store began to be active in 2011, and it seems that it closed in the same year.
The image of Colonel Toad was included in the Pinterest collection in August 2011 and remained unnoticed there until 2017, when it began to appear on Facebook and Instagram as a macro image with a single panel. The image was initially tagged with the lyrics to Man's Not Hot, a joking rap song recorded by English comedian Michael Dapaa.
Surprisingly, the Gentleman Frog isn't the only whimsical painting of a toad in a suit. In May 2020, another one appeared on Twitter, resulting in both pictures being posted as a two-panel template, which attracted a lot of attention. In January 2021, the Colonel was used to illustrate the feeling of completing Zoom work meetings during the pandemic. At the end of September, Frog In Suit painting went viral when it appeared on Twitter as a way to convey obvious and nonsensical information.
Meme Meaning
This meme can be used to convey some things with a high level of seriousness, but the very essence of these things should be as stupid as possible, even more, stupid than dad jokes. Colonel Zhaba is the embodiment of typical fatherly jokes.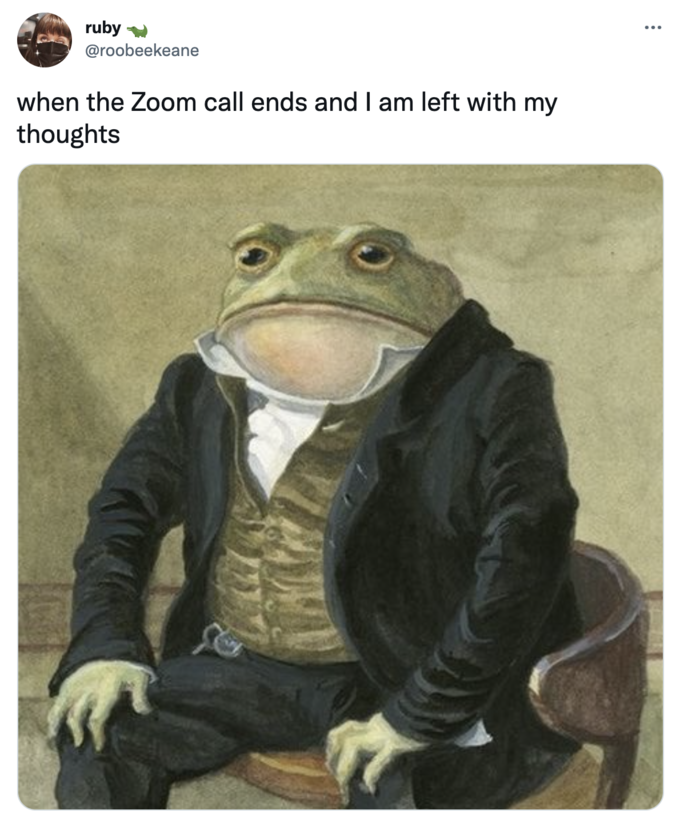 Selection of Memes
A sad story that must have happened to every person on the planet. After all, you had a moment when you plucked up the courage to finally confess your feelings to your crush, and he said that he wanted to be friends. The main thing after this is not to lose heart and not be upset.
Unfortunately, for all of us, death is inevitable and someday the day would come when we'll have to leave this world and all our loved ones. Colonel Zhaba decided to make us sad and inform us about it. A very sad meme.
Do you agree with the expression in Frog and Toad painting? We fully support the fact that sexuality and charisma do not come from the type of figure at all, but the mind of a person. No wonder they say that a smart person is sexy and very turns on.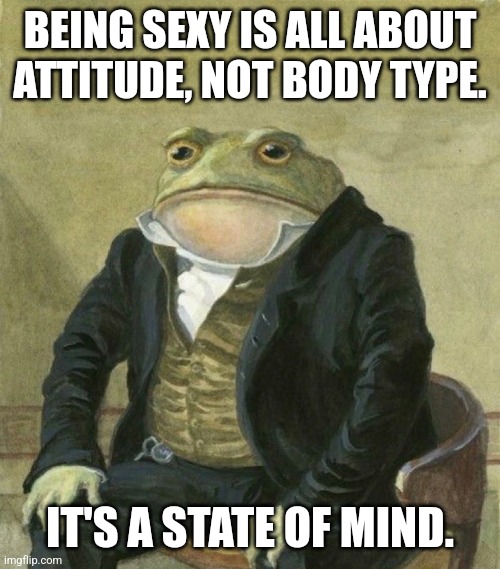 Colonel Toad decided to dress up as Eren Jaeger from the Attack on Titan anime. And it seems to him that such an unusual outfit suits him. Looks stylish and canonical. It would be even funnier if he took part in this anime as the main character. Then all the titans would run away in horror and not attack people.
And this meme is especially for fans of the anime Jujutsu Kaisen. I wonder if Colonel Toad tried to cosplay Itadori or Gojo? In any case, he did a great job and solemnly announces that today is not Attack on Titan Sunday.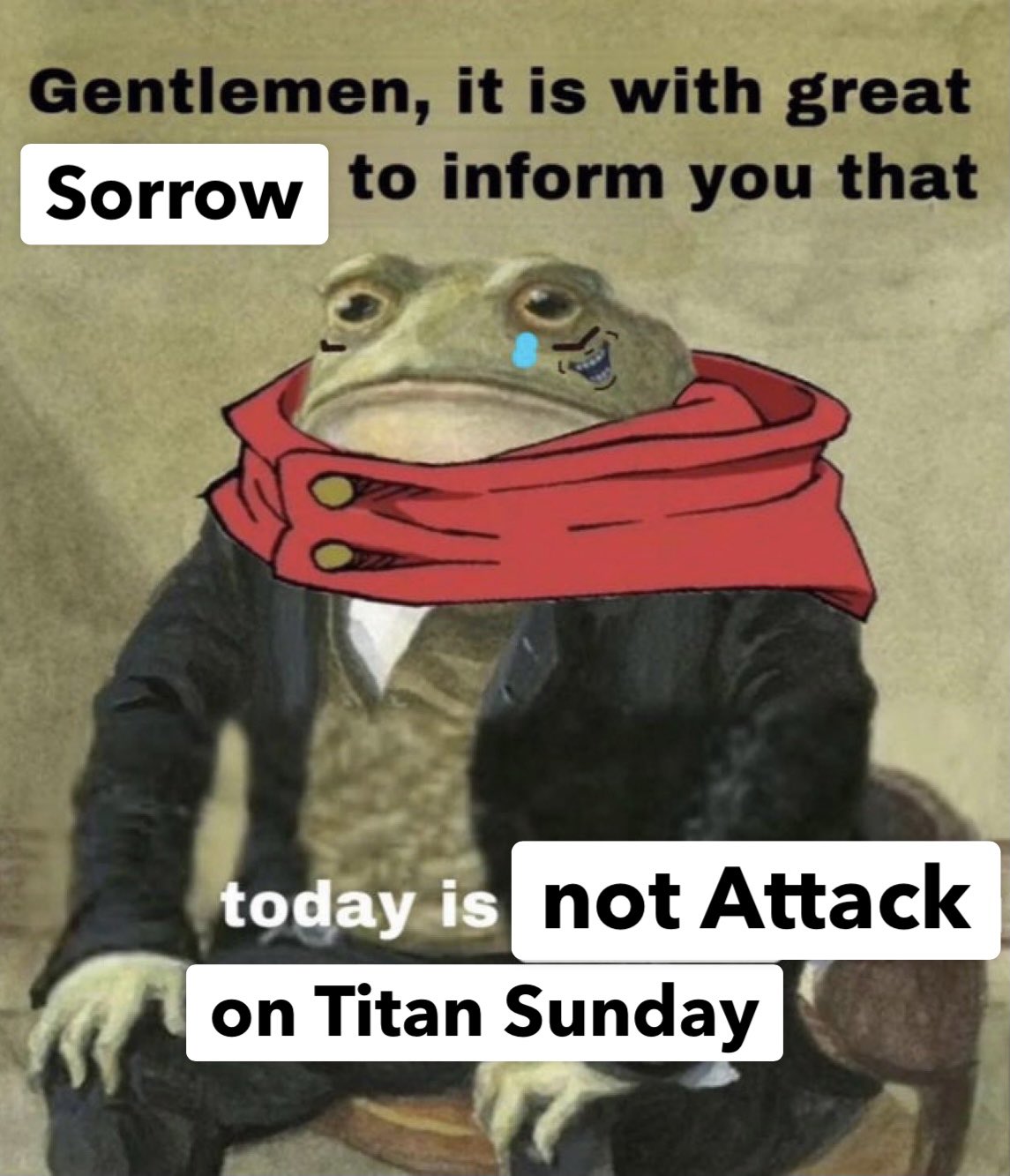 When I misunderstood the girl's words. But she hinted at something hotter, but not all guys immediately understood the hints. Therefore, dear ladies, please tell the guys all your intentions and desires directly, otherwise you risk being misunderstood like in this meme.
If there are programmers among our readers, then they would feel all the pain from the words in the meme. The Javascript programming language is probably the most hated even by the coolest programmer. You'll ask why? Probably because when programming in this language, your brains explode.
Unfortunately, such a Gentleman Frog meme can be repeated in one century. But on the other hand, in 2022 there is another beautiful date, this is the 22nd day of the 2nd month and the year 2022. So many girls were waiting on this very day for a marriage proposal from a guy. On this wonderful date, the guys proposed to their beloved girls.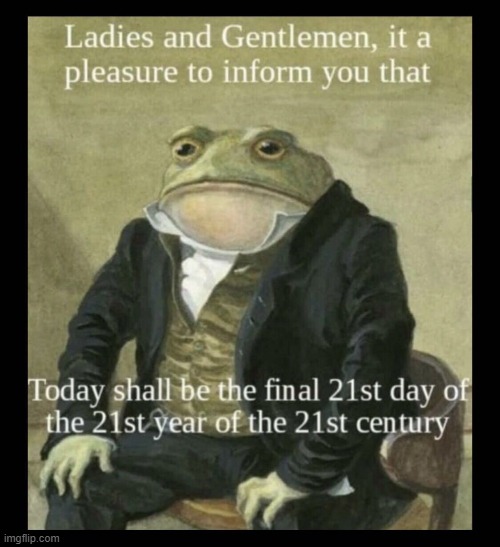 This Colonel Toad looks very important and like a real hero. If he were the hero of some kind of children's cartoon, then he would free the princesses from fire-breathing dragons and walk-in knightly armor. Would you like to see Admirer Toad in such an atypical way for him?
Using the Frog In Suit painting meme template, you can create many funny pictures and even dress up a toad in the clothes of the main characters of popular anime, as you can see in our selection of memes. Do not forget to download the original picture and show your imagination when creating memes.
Do you like this article?
yes
0
LOL, you really like it?! OMG, kappa pride, tell us why :)
no
0
Ok, boomer, now I am serious as a serious cat. Tell me why you didn't like it?